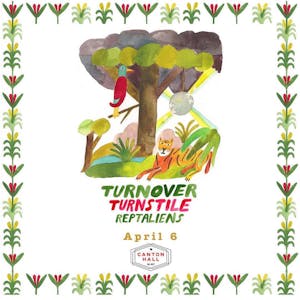 Turnover • Turnstile • Reptaliens • Narrow Head
Canton Hall
Dallas
,
TX
$26.75 - $30.00
Sales Ended
On Canton Hall
AEG + MW + Parade of Flesh present Turnover, Turnstile, Reptaliens, Narrow Head at Deep Ellum - indie rock, dream pop, emo, hardcore
Turnover (Facebook / Instagram / Twitter)
Turnover has never been a band afraid of telling the truth. The emotional honesty poured out over a number of anthemic releases has been a proven formula of success for the band, but on their sophomore LP Peripheral Vision, the band treads into deeper water. Working again with Magnolia producer Will Yip (Title Fight, Circa Survive), Turnover's latest record shows a band maturing to create their best effort: an ethereal, reverb-drenched soundscape blending elements of hazy dream pop and the delicate emo rock of yesteryear. Songs like "Hello Euphoria" and "Like Slow Disappearing" highlight the new calmer, more subdued approach to songwriting, matched by Austin Getz's somber, confessional lyrics that echo throughout songs as if his words were haunting every measure. Peripheral Vision solidifies the idea that Turnover is a band with its finger on the pulse of its generation: growing and learning with every release, but never failing to provide a relatable, cathartic experience for anyone listening.
Turnstile (Facebook / Instagram / Twitter)
From the release of their 2010 demo to their 2011 Pressure to Succeed EP, Turnstile have walked a path all their own. A path that has quickly brought them a rabid following based off of their groove driven melodic energies and insane live shows. Having shared the stage with bands like Bane, Trapped Under Ice, Title Fight, Backtrack, and many more, Turnstile have continued to travel and grow. As many attendees to these events can attest, Turnstile is a group that when they play live, no one can sit still. The spirit of Turnstile's music is constantly creating converts by their vital and overpowering live shows.
The Reaper Records release of the Step 2 Rhythm EP in early 2013 drew from NYHC influences such as Madball and Breakdown, but also delivered a new alternative sound that only added more fuel to this growing fire – now, they're ready to pour on the gasoline. The release of Turnstile's first full-length record Nonstop Feeling is going to give fans so much more than they're anticipating and draw in a whole new wave of maniacs to the Turnstile tribe.
The record was recorded in Baltimore with Brian McTernan (Circa Survive, Hot Water Music, Thrice) at Salad Days studio. Having a personal and musical history with McTernan, they came together to make a record that sounded bigger and louder than anything previous. The bright color scheme represents the idea of raw, unbridled expression, positive or negative, that is delivered in each of the twelve tracks. From the signature artwork to the energy infused tunes, this record creates a vibrant slam of emotion that defines Turnstile more than ever as a band leading their own way.
Reptaliens (Facebook / Instagram / Twitter)
Bambi and Cole met on a basketball court, filming a music video for a band that didn't have any music. After dating for six months, the two married under a blanket of smoke from the season's forest fires.
Reptaliens quickly evolved from a conceptual collage of ideas into the bedroom recording project for the duo, captured through analog synthesizers, electric guitars, and melodic bass lines, that are recorded onto tape through a karaoke machine.
As long time, active participants in the Portland music scene, Bambi and Cole call on a number of talented musicians to guest on songs throughout the entirety of Reptaliens' recordings and live performances. The band embraces the captivity of their audience with their sincere and theatrical performances.
Venue Information:
Canton Hall
2727 Canton St
Dallas, TX, 75226