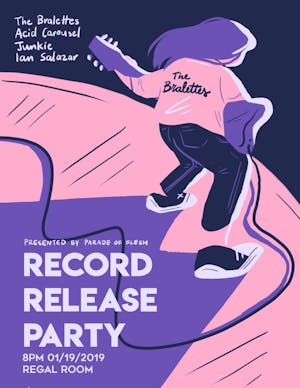 The Bralettes (LP Release) • Acid Carousel
Regal Room (Independent Bar & Kitchen)
Dallas
,
TX
$10.00 - $12.00
Sales Ended
The Bralettes, Acid Carousel, Junkie, Ian Salazar @ Regal Room
The Bralettes (Facebook / Twitter / Instagram / Bandcamp)
The Bralettes are an all girl band that defines girl power and promotes body positivity. As self-taught musicians from Oak Cliff, TX, they strive to create simple yet catchy music for everyone to enjoy.
Acid Carousel (Facebook / Instagram / Bandcamp)
Acid Carousel is a young group of 6 multi-instrumentalists hot out of Denton, Texas, giving it to you just how you like it. Blending a wide variety of influences to create a sound composed of a psychedelic garage punk freak-out, they have released 2 full-length albums and 3 EPs in the bag with many more in the oven. John Kuzmick, accompanied shortly after by Gus Baldwin in 2016, started the band with the release of their first album America's Newest Hitmakers. This full-length release was followed by their This is a Fucking Treat! and Tangerine Dream Machine EPs within that same year. It was during this time that Ian Salazar joined the group and began contributing to the production of subsequent releases. In March of 2017, A.C. self –produced and released their second full-length album Higher Than The Beatles! on the DFW based label Dreamy Life records, who continues put out their material. This release landed them a nomination for best album from the Dallas Observer, as well as a nomination for Best Group Act. It was during this same year that Lucas Martins joined the band as the third stage guitarist, and as a new songwriter as well. With the beginning of 2018, A.C. released their EP, Street Cowboys and a few months later did their first tour of the west coast. Prior to this tour, Jacob Derting joined the band as the on-stage drummer and was followed, later in the fall, by his twin brother Matt Derting filling in on live keyboards as well as saxophone. In 2019, A.C. has a projected three full-length records all on Dreamy Life records, along with a tour, in January, of the east coast.
Junkie (Facebook / Instagram / Bandcamp)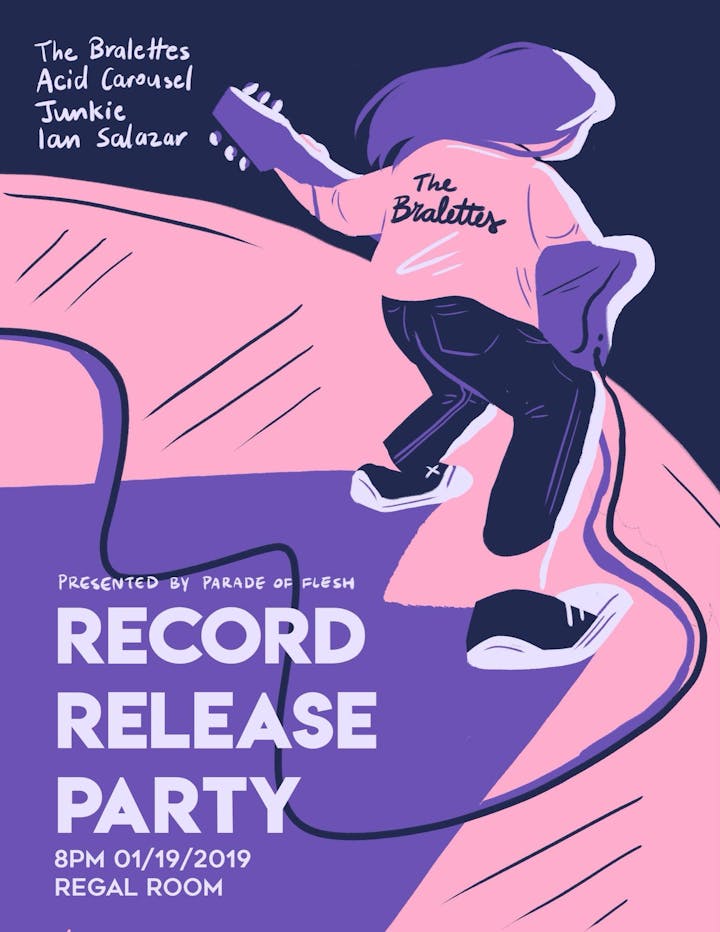 Venue Information:
Regal Room (Independent Bar & Kitchen)
2712 Main St
Dallas, TX, 75226