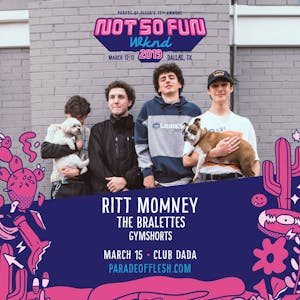 NSFWknd: Ritt Momney • The Bralettes • Gymshorts
Club Dada
Dallas
,
TX
Parade of Flesh's Not So Fun Wknd: Ritt Momney, The Bralettes, Gymshorts at Dada, Deep Ellum, Dallas, TX - rock, punk
Ritt Momney (Bandcamp / Facebook / Instagram / Twitter)
Ritt Momney are a group of teenagers based out of Salt Lake City in the US, who's latest double single Pollution/Disclaimer came across our ears and boy something just clicked straight away. It's one of the most intriguing pieces of music we've heard all year, and it's crazy to think these guys can't even legally drink where they're from yet. Anyone remember The Unicorns? Well these guys might just be the second coming of that incredible band, and you'd do yourself a favour getting amongst them ASAP
The Bralettes (Facebook / Instagram / Twitter)
The Bralettes is an all girl trio that defines girl power and promotes body positivity by performing in bralettes themselves. As self-taught musicians from Dallas, Texas, they strive to create simple yet catchy music for people of all ages. Paulina's soft and sweet voice paired with Molly's powerful vocals allows them to have songs that range from innocent & bubbly to edgy & punk. With the help of a heart projector, bubble machines and catchy songs, they are always ready to put on a show that will surely have people moving.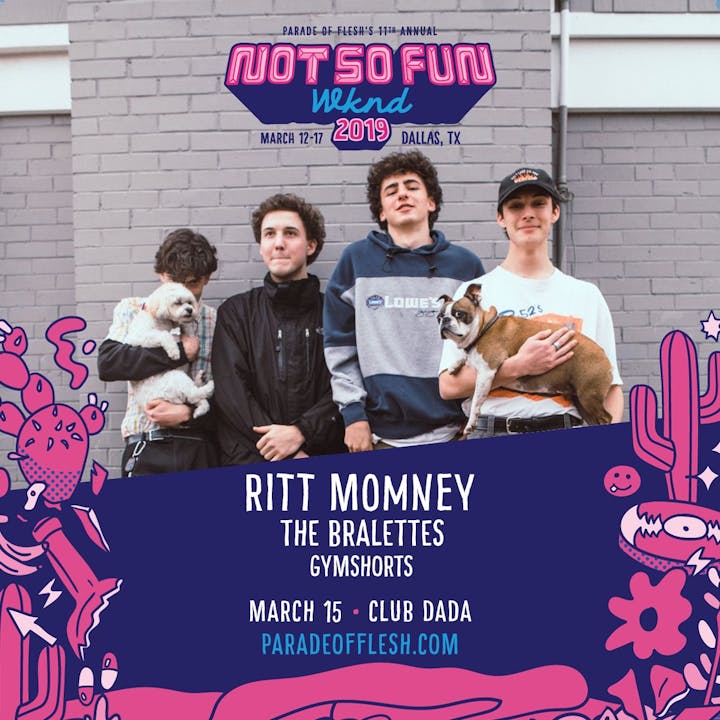 Venue Information:
Club Dada
2720 Elm St
Dallas, TX, 75226