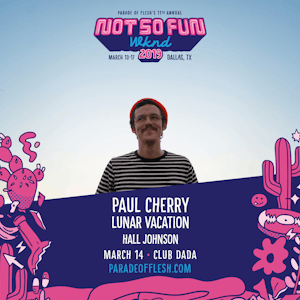 NSFWknd: Paul Cherry • Lunar Vacation • Hall Johnson
Club Dada
Dallas
,
TX
Parade of Flesh's Not So Fun Wknd: Paul Cherry (Feeltrip), Lunar Vacation (House Cat), Hall Johnson at Dada , Deep Ellum - yacht rock, pop
Paul Cherry (Facebook / Instagram / Twitter)
Paul Cherewick, monikered Paul Cherry, initially came up during Chicago's garage rock wave of 2014. In the thick of the DIY scene with up and coming bands of the time as Twin Peaks, Mild High Club and Whitney, Paul would abandon the all too familiar lofi rock sound of his first EP "on Top" and spend the next 3 years exploring the nuances of jazz and pop, finding his footing with a new sound. Paul Cherry has revamped and reinvented himself on his debut LP, Flavour. Cherry's well crafted melodies sit at the intersection that fans of Todd Rundgren's classic songwriting and Ariel Pink's lo-fi dream pop can totally enjoy
Lunar Vacation (Facebook / Instagram / Twitter)
Atlanta-based Lunar Vacation formed in the summer of 2016 as a way to escape the monotony of suburban Catholic-school life. The five members- guitarist/vocalist Grace Repasky, guitarist Maggie Geeslin, bassist John Michael Young, keys man Matteo De Lurgio, and drummer Connor Dowd- began writing and performing in their junior and senior years of high school. Unsure of how to label their fusion of dreamy melodies, surfy progressions, and psych-rock jams, the five-piece has described their music as "pool rock" Their first single, "Anna", released in early 2017, quickly gained attention, and the band self-released their first EP, entitled "Swell", later that year.
They released their second project, "Artificial Flavors", in 2018, further crafting their sound. After all members finally graduated high school, the five teens headed out on their first tour as a last hurrah before starting college. Lunar Vacation will play their first U.S. tour in the spring of 2019.
Hall Johnson (Facebook / Instagram / Twitter)
Hall Johnson is a 5-Piece band that was formed in Dallas in 2016. The name Hall Johnson, for those who don't know, was coined from the road that runs through the band's hometown, granting the band some early recognition around the area.
In April of 2017, they released their split-single "City Lights/Upstate" which has gained attention from local media outlets such as The Dallas Observer, This New Band, and others. On December 30th, Hall Johnson released their highly anticipated debut EP "Goalie" which has made its way through various media outlets and is currently rising through the ranks of multiple streaming platforms.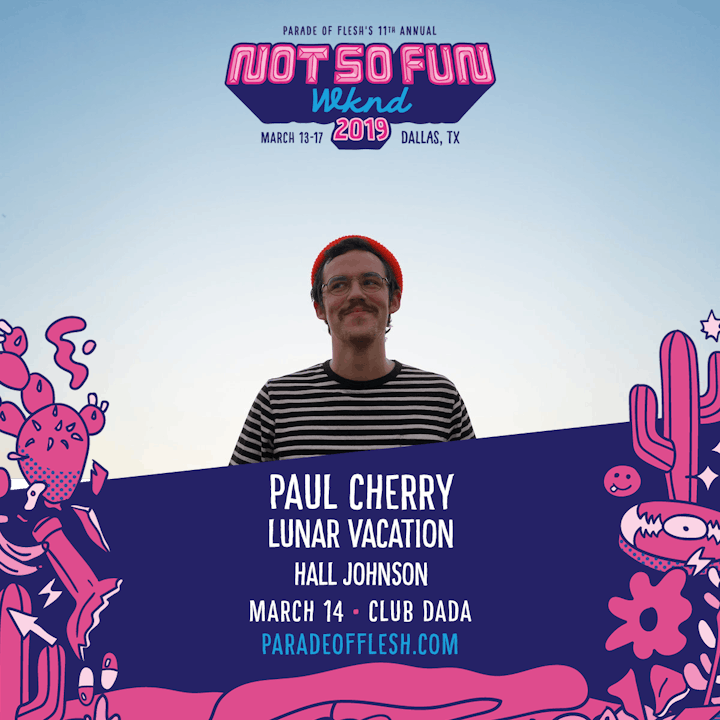 Venue Information:
Club Dada
2720 Elm St
Dallas, TX, 75226