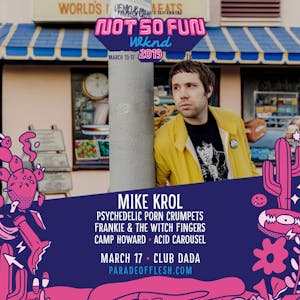 NSFWknd: Mike Krol • Psychedelic Prn Crumpets • Frankie & The Witch Fingers
Frankie and the Witch Fingers
Psychedelic Porn Crumpets
Club Dada
Dallas
,
TX
Parade of Flesh's Not So Fun Wknd: Mike Krol, Psychedelic P Crumpets, Frankie & The Witch Fingers, Camp Howard, Acid Carousel @Dada
Mike Krol (Facebook / Instagram / Twitter)
Of all the breakups in Mike Krol's songs, the most harrowing story is about his breakup with music.
In 2015, coming off his best record yet and the ensuing world tour, Krol found himself in the midst of a full-blown existential crisis. He'd invested everything to create the rock-and-roll life he'd always wanted, but he wasn't sure the life wanted him back.
Power Chords, Krol's new Merge release, picks up where 2015's Turkey left off. It traces Krol's journey back to punk rock, harnessing both the guitar technique and the musical redemption referenced in its title. To rediscover the power in those chords, Krol recorded for two-plus years in three separate locations (Nashville, Los Angeles, and Krol's native Wisconsin). The record opens in a howling maelstrom of feedback: welcome to Krol's crucible. After a stage-setting spoken-word intro ("I used to never understand the blues, until the night I met you. And every day since, I've gotten better at guitar"), we find ourselves back in familiar Krol territory—aggressive and assertive, scratchy and raw, catchy as hell—but something has changed. The sounds have a new density—and so do the stories. Krol's lyrics have always walked a fine line between self-acceptance and self-destruction, but throughout Power Chords, they reveal a new sense of self-awareness. "Without a little drama I grow bored and sick of all my days," he sings on "Little Drama," and it's just one revelatory moment on a record full of them.
Psychedelic Prn Crumpets (Facebook / Instagram / Twitter)
Take the trail out of Perth via Leederville and keep on driving, and you might just stumble across an old horse shed – one where weirdness roams free. Across the bridge from said shed, house parties rage until the early hours and beyond, while around the corner there's a sky-high pile of trash that acts as a makeshift home for the local rat population. It's here, amongst jam sessions that would last six-hours plus, that the wacky, sprawling sound of Psychedelic Prn Crumpets was born.
"It had a tin roof, so it was really nice when it rained," reveals the band's frontman and ringleader Jack McEwan – an idyllic image that's quickly scrawled over when he recounts a tale of said roof tearing off in the wind one night. "I used to have to wake up at 3am and spray myself with bug spray," he adds with a shrug. Composing songs on an old, out-of-tune piano, and hooking up projectors to their amps to beam warped imagery around the clapped-out barn, their wonky approach to music-making took root amongst the hay. "We got too many noise complaints," he admits, revealing that they've since decamped to a seaside home where they can make as much racket as they please. "It got into fine territory, but I don't think we ever paid one, so it's fine."
Originally formed as a uni course solo project for McEwan, who moved to the barn while "trying to live the bohemian life… until I ran out of internet", Psychedelic Prn Crumpets' night-long jam sessions and unconventional abodes are just the tip of their iceberg of happy accidents. He and fellow bandmate and guitarist Luke Parish met through a "local courier", while their upcoming record 'High Visceral' – a riotous stomp of psych-rock escapism – was inspired by the most unlikely of situations: their time as tradies, working on building sites. The two then teamed up with Danny Caddy & Luke Reynolds, completing the line-up.
Jack and pals needed something visceral. "We took the harder approach – big riffs," he says with an audible grin, "When you're on a site for six days a week, it's nice to get back in the evening and go 'RAAAAARGH' into a mic." That primal, intuitive style followed them through to their live shows, which would see the band writing a song one evening, and playing it in the local pubs the following night, inciting mosh-pits and wig-outs with barely a pause for breath.
That unforgettable name is yet another example of their go-it-alone approach - "I wanted something memorable like marmite – you either love it or you hate it," laughs Jack. Cracking a beer and preparing for another evening in his basement studio, he paraphrases an essay by fellow Perth resident Nick Allbrook of POND as key to his musical mindset: "Everyone calls Perth the most isolated city, and you kind of are… you're unaffected by great architecture, or 1000 years of history, so you want to create your own tale." One thing's for sure - the Psychedelic Prn Crumpets' tale is already one for the ages.
Frankie & The Witch Fingers (Facebook / Instagram)
Over the course of five years and four LPs, L.A. veterans, Frankie and the Witch Fingers, have been mutating and perfecting their high-powered rock n' roll sound. After savagely touring the USA and Europe, this four-headed beast has shown no signs of relenting—appearing like summoned daemons and dosing crowds with cerebral party fuel.
The main attraction of Frankie and the Witch Fingers is their explosive performance. With their rowdy and visceral approach to live shows, each member brings their own devilry to induce an experience of bacchanal proportions.
Using absurd lyrical imagery—soaked in hallucination, paranoia, and lust—the band's M.O. strikes into dark yet playful territory. This sense of radical duality is astir at every turn, in every time signature change. Airy vocal harmonies over heavily serrated riffs. Low-key shamanic roots under vivid high-strangeness. Rambling stretches and punctuated licks. Cutting heads and kissing lips. All this revealing a stereophonic schizophrenia that has flowed throughout their body of work: an ebb & flow of flowery-poppy horror.
The band's latest incarnation is primed to break new sonic ground, edging into the funky and preternatural. Just when you think the trip couldn't get any weirder, Frankie and the Witch Fingers cranks up the dial, shatters the mundane, and summons new visions.
Camp Howard (Facebook / Instagram / Twitter)
Camp Howard is an experimental indie-rock quartet based in Richmond, VA fronted by songwriters Nic Perea and Wes Parker. Bilingual member Nic Perea, who is originally from Mexico, contributes songs in Spanish that shape the band's sound with a Latin influence. Matt Benson and Brian Larson, both graduates of the jazz program at VCU, hold the group close together with their undeniable technical talents. The band released its first record in 2016 with the help of local friends Citrus City Records and Crystal Pistol Records. The group began to tour up and down the east coast in support of their first release. A year later, the band released a more polished EP titled "Juice EP" through Egghunt Records. The lead single and title track off the EP, "Juice", made its way into a Consequence of Sound article and quickly became Camp Howard's most popular track. The band's efforts were rewarded in the summer of 2018 with a support tour opening for Stone Temple Pilots. Camp Howard has continued to tour and grow with an emphasis on tight musicianship and honest self-expression.
Acid Carousel (Facebook / Instagram / Twitter)
Street Cowboys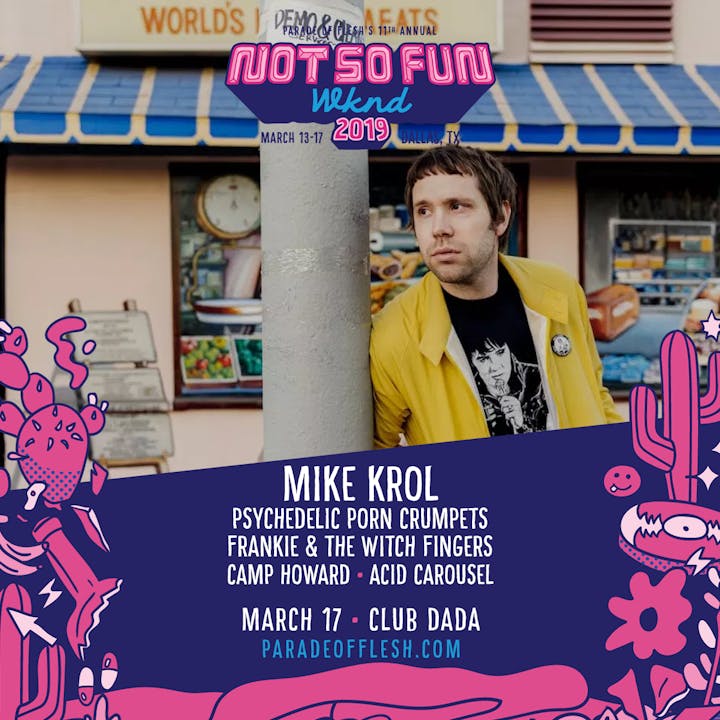 Venue Information:
Club Dada
2720 Elm St
Dallas, TX, 75226