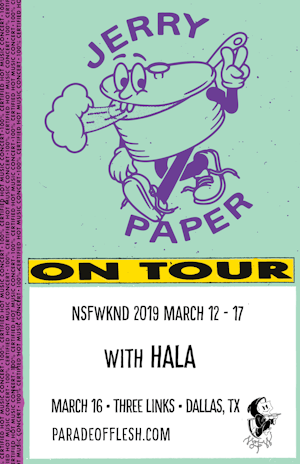 NSFWknd: Jerry Paper • Hala • Alys Revere
Three Links
Dallas
,
TX
Parade of Flesh's Not So Fun Wknd: Jerry Paper (Stones Throw), Hala, Alys Revere at 3 Links Deep Ellum - electronic, synthpop
Jerry Paper (Facebook / Instagram / Twitter)
Jerry Paper is the creative persona of Los Angeles-based multi-instrumentalist, songwriter and producer Lucas Nathan. For Like A Baby, Nathan enlisted the help of Matthew Tavares of BadBadNotGood a.k.a. Matty (who co-produced the album), Weyes Blood, Mild High Club's Alex Brettin, and vocalist Charlotte Day Wilson.
Over the years, the Jerry Paper project has morphed from an experimental outlet to its current, more fully realised incarnation. It is, Nathan says, "always changing just as I am always changing as a person, and that change is central to what I create".
Following albums for Bayonet Records and Orange Milk, Like A Baby continues Nathan's oddball take on synthpop with a renewed sense of clarity and purpose. Nathan cites a vast pool of influences on the record, from fellow pop outliers Prefab Sprout, Todd Rundgren and Steely Dan — "a deep source of inspiration for me" — to classic R&B, Stereolab, avant-garde Brazilian artists, and Japanese electronica.
Inspired by a move from NYC back to Nathan's hometown of LA, Like A Baby explores existential themes tied to "the endless human cycle of desire and satisfaction." Its dystopian shopping imagery was inspired by afternoons spent wandering around malls and supermarkets. According to Nathan, the tension between form and content "melds my own simultaneous attraction to and disgust of life within this system. This record is a document of my attempt to step out of the cycle and view it from the outside."
Opening the album are "Your Cocoon" a hazy, distorted take on pop, and lullaby-of-sorts "Grey Area", laced with Weyes Blood's heavenly vocals. Dystopia seeps into the everyday on "Everything Borrowed", while "Commercial Break" and "My God" address the impulse to consume. "Baby" and "You" take a look at the blurred lines between facade and truth, and the album closes with bittersweet ballad "Losing The Game" and "Bad News", an apt song despairing at the 24-hour news cycle.
Jerry Paper has shared the stage with Mac DeMarco, BadBadNotGood and Mild High Club, and plans to tour extensively around the new record. Five musicians join Nathan on stage for his eccentric performances, accompanying his vocals and wiggling dance moves on bass, drums, guitar, synth, and saxophone. For Nathan, performance is more than playing songs. He's had out-of-body experiences on stage, which he describes as "a moment of pure ego dissolution that I can only get when I'm on stage while I'm grooving."
On stage, Nathan says, "I embody an exaggerated version of myself, pushing it to a limit where I transcend my ego, in an effort to get the audience to shed their ideas of themselves, shed their egos, and be free." The lyrics to "Your Cocoon" point to that freedom as Nathan sings, "I'm here dressed up like a cartoon / Asking please please burn your cocoon."
Nathan adds, "I think binary ideas are directly contrary to the complexity and subtlety of the world, of lived experience. I try to use my music and performance to held rid people of binary thought as the default mode of engaging with the world."
Hala (Facebook / Instagram / Twitter)
Recording under the moniker Hala, 21 year old Ian Ruhala writes songs that feel fresh, bright, but insightful, out of his home in Detroit, Michigan. It is the kind of music that one would expect to hear at the beginning of a movie or short film, alongside opening credits. With a prolific output, Hala stresses the importance of the songwriting and production process, as much as the final product.
Take his 2016 debut, Spoonfed, which is perhaps Hala's best-known collection of songs. "I was in a pretty rough, and eclectic state of mind, when I was writing and recording the album," Ruhala remembers. "I felt like the entire world was fighting against me, and my only weapon of defense was my voice, and my guitar."
Recorded in the attic of a century old home in Midtown Detroit, with limited studio equipment, songs like "Club Soda," "Phone Calls," and, "Not Your Modern Man," chronicle Ruhala's experiences of living in a musical commune, and crossing the threshold of adulthood. These songs document in a rather poignant way, a sense of uncomfortability, and naiveté, that almost simultaneously accompanied these transitions in the young writer's life.
The stand-out from the record, "What Is Love? Tell Me, Is It Easy?," has gathered praise for having this sensibility. Lyrically, Hala says the song is rather rhetorical, but since it's release it has become a soundtrack for the optimistic but always hopeless romantics of indie rock consumption.
Hala's latest numbers, seem like reasonable stepping stones. On "Love Grows," the guitars waver hot above a low, dusty drumbeat, as a restless bassline shrugs beneath shuffling chords, and a vocal that croons like that of Bob Dylan.
A most recent single, 2018's, "Sorry," shows Hala at perhaps his most realized—sunny and fun, with lyrics as mischievous as the guitar's leads; the track is energetic, restless and all encompassing.
alys revere is a lofi project from dallas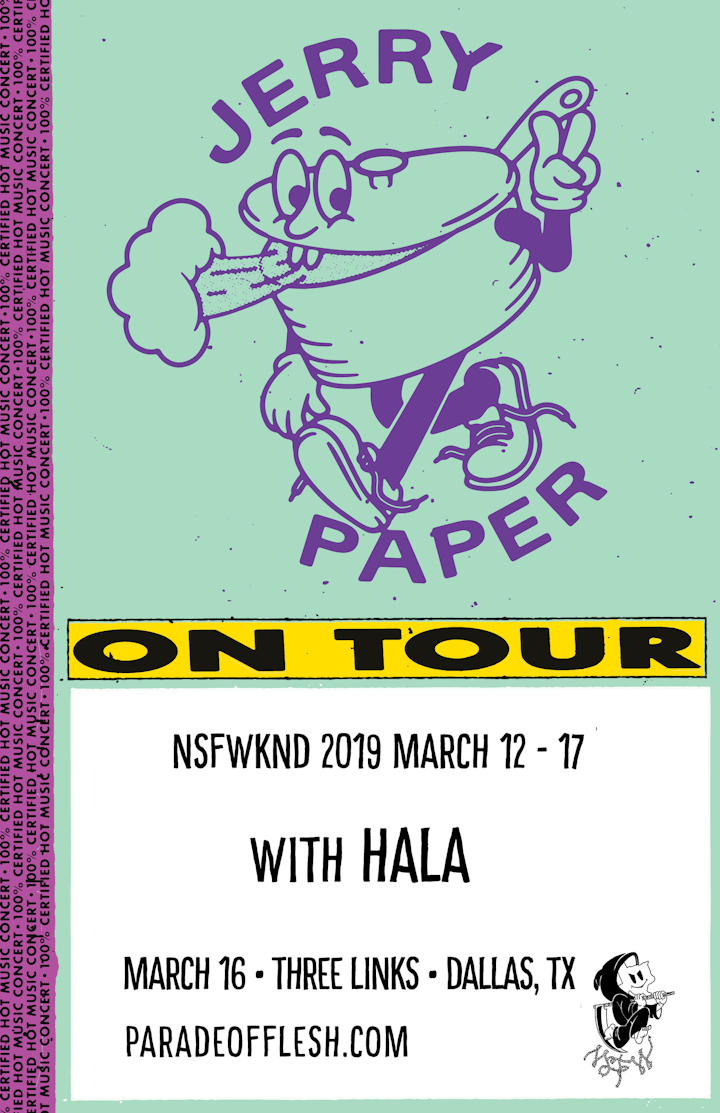 Venue Information:
Three Links
2704 Elm St
Dallas, TX, 75226