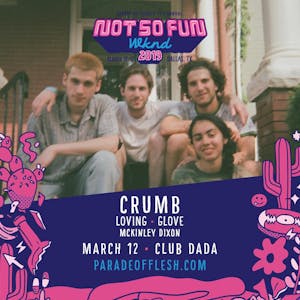 NSFWknd: Crumb • Loving • Glove • McKinley Dixon
Club Dada
Dallas
,
TX
Parade of Flesh's Not So Fun Wknd: Crumb, Loving, Glove, McKinley Dixon at Club Dada, Deep Ellum, Dallas, TX - indie rock, alternative
Crumb (Facebook / Instagram / Twitter)
Crumb is Lila Ramani (guitar, vocals), Brian Aronow (synth, keys), Jesse Brotter (bass), Jonathan Gilad (drums). The group originally came together in 2016 to develop and record a collection of songs Lila had written throughout college, a recording project that became their first self-titled Crumb EP. Locket, their second EP, was created while the four were split between New York and Boston and released in June 2017. They are currently based in NYC and in the midst of recording their first full-length album.
Glove (Facebook / Instagram / Twitter)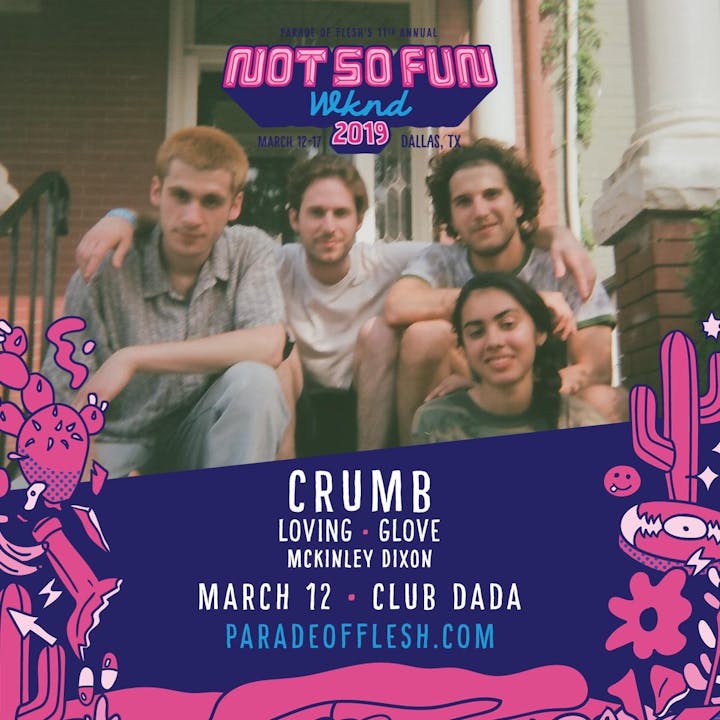 Venue Information:
Club Dada
2720 Elm St
Dallas, TX, 75226