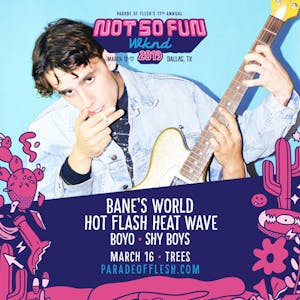 NSFWknd: Bane's World • Hot Flash Heat Wave • BOYO • Shy Boys
Trees
Dallas
,
TX
$18.00 - $21.00
Sales Ended
On Trees
Parade of Flesh's Not So Fun Wknd: Bane's World • Hot Flash Heat Wave • BOYO • Shy Boys at Trees, Dallas - alternative, indie rock
Bane's World (Facebook / Instagram / Twitter)
Hot Flash Heat Wave (Facebook / Instagram / Twitter)
San Francisco indie-rock quartet Hot Flash Heat Wave rose to prominence in the Bay Area music scene in 2015 with the release of their 'Gutter Girl' music video, from their debut album Neapolitan, which was uploaded to YouTube and eventually made its way to the front page of reddit. Their versatile sound, at times reminiscent of golden 60s, power pop, dream pop, post-punk and indie rock, demonstrates a dynamic range of songwriting prowess centered around consistently infectious, sun-soaked melodies and guitar hooks. HFHW formed in Davis, California as a noise collaboration between Adam Abildgaard and Nick Duffy in 2010, expanding to a full band when bassist Ted Davis and guitarist Nathaniel Blum joined the group in the following years. Renouncing the traditional front-manned format of most contemporary bands, the four instead each contribute songs and share the lead. With the release of their sophomore album, Soaked, accompanied by a string of creative self-produced music videos in 2017, the group embarked on its first nationwide tour. Their first single, 'Bye Bye Baby', appeared on Canada's Viral 50 Spotify playlist. In 2017, HFHW released their sophomore album Soaked with OIM Records, which charted on college radio in the U.S. The band just finished up a national tour and SXSW visit with No Vacation to promote their new single 'Glo Ride' – a song released in collaboration with Broken Ent. Hot Flash Heat Wave will continue to release music and new videos throughout 2018.
BOYO (Instagram / Twitter / Soundcloud)
BOYO is the eclectic, psych-pop brainchild of 22 year-old ... dissolution of Bobby T. and the Slackers, a cult-beloved garage-band that Tilden started at age 16.
Shy Boys (Facebook / Instagram / Twitter)
Hailed as "The Beach Boys on Robitussin", Shy Boys – DIY champions of Kansas City, MO, are comprised of brothers Collin and Kyle Rausch and best friends Konnor Ervin, Kyle Little and Ross Brown. Their album, Bell House, was released August 2018 on Polyvinyl. The album's title is taken from the band's beloved headquarters – the old house on Bell Street in Kansas City where they lived together for the better part of 5 years.
"'Lived' is a loose term," says Collin. "It was more like a bum den than anything else. There was a giant hole in the floor of the kitchen that had a piece of plywood over it. In the backyard, weeds got like 6 feet high in the summer. It was its own thriving biome. We lived in trash."
Musically, Collin describes the songs on Bell House taking shape through "a group of guys trying to get through some sort of mutual identity crisis. The lifestyle became overwhelming and really seeped into the music."
The band has spent the bulk of the past year on the road in support of the album, touring with Cut Worms, Strfkr, La Luz, Wavves, and Frankie Cosmos, quickly earning a reputation as a spellbinding live band.
Venue Information:
Trees
2709 Elm Street
Dallas, TX, 75226