New Show: RINGWORM & NAILS
Already announced via facebook, I'm finally getting around to announcing it here.
This will be my 2nd time hosting Nails and Bitter End… maybe 3rd or 4th with locals Power Trip. An evening of hardcore and grind . . .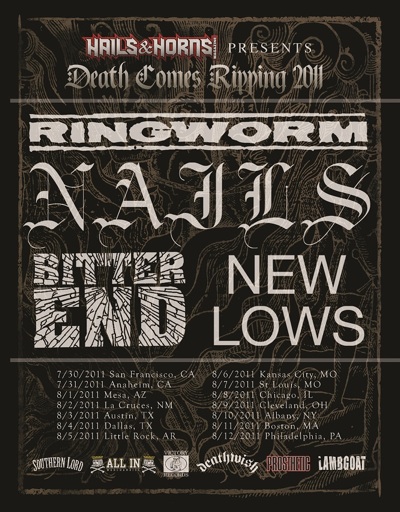 Thursday, August 4th, 2011 – 7pm
RINGWORM
NAILS
BITTER END
POWER TRIP
NEW LOWS
@ Trees
2709 Elm St
Dallas
All Ages
$10 for 21+
$15 for under
This entry was posted on May 8, 2011 at 8:17 pm, filed under News.
Bookmark the permalink.
Follow any comments here with the RSS feed for this post.
Both comments and trackbacks are currently closed.