Friday and Saturday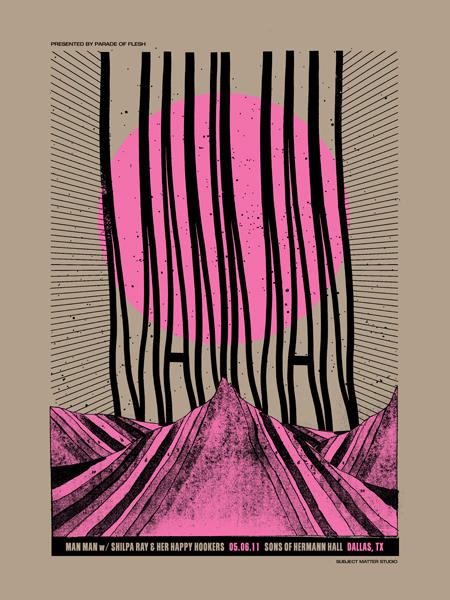 I thought Bro Fest 2011 would be the peak for Parade of Flesh this year, but I am surprised to host once again, the Philadelphia "Viking-vaudeville, maniac Gypsy Jazz" band that dresses in white, MAN MAN. Last time I brought them through turned into an insanely packed/sold-out show in April 2009, which should have been in a larger venue; I had no idea of the power of Man Man at the time. This go around, in the year of our lord 2011, Man Man will be performing at the 100 year old dance-hall that is SONS OF HERMANN HALL on Friday May 6th. I would encourage buying tickets in advance.
Friday, May 6th, 2011
MAN MAN (Philadelphia, PA)
SHILPA RAY & HER HAPPY HOOKERS
@ Sons of Hermann Hall
3414 Elm St
Dallas, TX 75204
All Ages
On Sale here
$15 advance, $17 day of show
Sons is CASH ONLY.
—————————
Not sure how long it's been, maybe a decade since they last came through Dallas, but The JON SPENCER BLUES EXPLOSION (Pussy Galore/Boss Hogg) will be coming Saturday, May 7th, 2011. JSBX are an experimental-garage rock trio that's been damaging souls since 1991.
The JON SPENCER BLUES EXPLOSION
@ Cambridge Room – House of Blues
2200 N Lamar St
Dallas
$16 advance from House of Blues
This entry was posted on May 5, 2011 at 12:38 pm, filed under News.
Bookmark the permalink.
Follow any comments here with the RSS feed for this post.
Both comments and trackbacks are currently closed.