Bro Fest 2010 mp3s
Mp3s from all the acts playing Bro Fest 2010 on March 21st at Double Wide. The only band missing is Snake Sustaine, because their new album isnt released yet.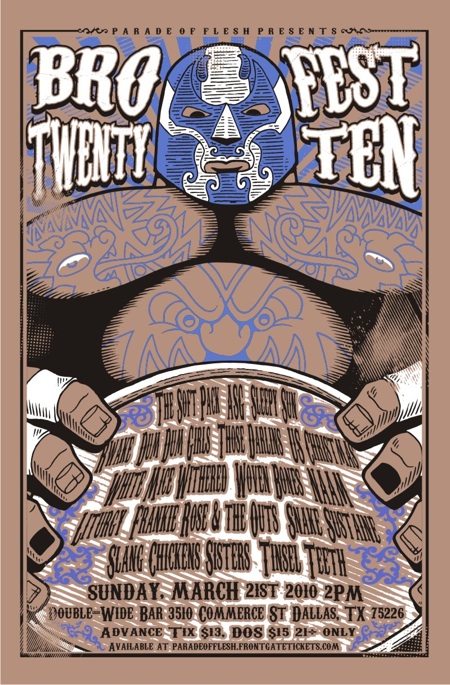 Enjoy:
ASG: "Palm Springs" mp3
Dum Dum Girls: "Hey Sis" mp3
Frankie Rose & the Outs: "Thee Only One" mp3
Liturgy: "Beyond the Magic Forest" mp3
NAAM: "Black Ice" mp3
Rwake: "Unleashing Cosmic Destruction" mp3
Sisters: "Accolades" mp3
Slang Chickens: "Tropics" mp3
Sleepy Sun – "New Age" mp3
The Soft Pack "Answer to Yourself" mp3
Tinsel Teeth: "Captain Antagonist" mp3
Those Darlins: "Hung Up On Me" mp3
U.S. Christmas: "The Scalphunters" mp3
White Mice: "Placenta The Crotchtower" mp3
Withered: "Drawn Black Drapes" mp3
Woven Bones: "Janie" mp3
This entry was posted on March 7, 2010 at 11:01 am, filed under News.
Bookmark the permalink.
Follow any comments here with the RSS feed for this post.
Both comments and trackbacks are currently closed.