CHAOS In TEJAS 2010 lineup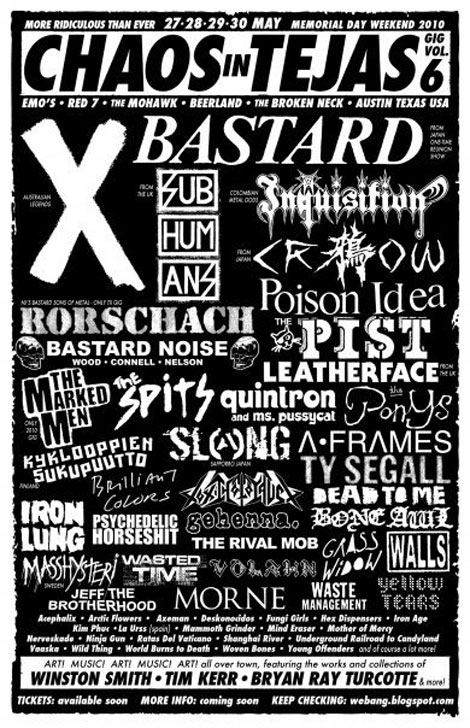 Prank Records has the Day by Day lineup for this year's CHAOS IN TEJAS in Austin May 27th to 30th:
THURSDAY: crow, talk is poison, X ( Australia), the Spits, wasted time, kyklooppein sukupuuto, ty segall, mind eraser, grass widow, mother of mercy
FRIDAY: bastard, subhumans, the marked men, world burns to death, walls, rival mob, kim phuc, vaaska
SATURDAY: poison idea, the pist, quintron and miss pussycat, inquisition, iron lung, bone awl, slang, masshysteri, leatherface, volahn, morpheme, waste management, la urss, acephalix, deskonocidos,viper, mind spiders, teenage cool kids, dead to me, ninja gun, shanghai river
Two Record Swaps Saturday, Three Day shows.
SUNDAY: rorschach, bastard noise, morne, yellow tears, young offenders, underground railroad to candyland, the hex dispensers
and Showlistaustin has it listed like this:
Chaos in Tejas with X (the Australian one), Bastard (Japan, one-time reunion), Subhumans, Inquisition, Crow (Japan), Poison Idea, Rorschach, The Pist, Bastard Noise, Leatherface, The Marked Men, The Spits, Quintron and Ms. Pussycat, The Ponys, A Frames, Kyklooppein Sukupuutto (Finland), Slang (Japan), Brilliant Colors, Toxic Holocaust, Ty Segall, Dead To Me, Iron Lung, Psychedelic Horseshit, Gehenna, Bone Awl, The Rival Mob, Grass Widow, Walls, Masshysteri, Wasted Time, Volahn, Jeff the Brotherhood, Morne, Waste Management, Yellow Tears, Acephalix, Arctic Flowers, Axeman, Deskonocidos, Fungi Girls, The Hex Dispensers, Iron Age, Kim Phuc, La Urss (Spain), Mammoth Grinder, Mind Eraser, Mother of Mercy, Nerveskade, Ninja Gun, Ratas Del Vaticano (Mexico), Shanghai River, Underground Railroad to Candyland, Vaaska, Wild Thing, World Burns to Death, Woven Bones, Young Offenders at Emo's, Beerland, The Mohawk, Red 7 and the Broken Neck
On sale now through EMO'S.
This entry was posted on February 7, 2010 at 12:51 pm, filed under News.
Bookmark the permalink.
Follow any comments here with the RSS feed for this post.
Both comments and trackbacks are currently closed.